Recorded Healings That You Can Listen To . . . Anywhere . . . At Anytime
72 Different Healing Situations . . .
Choice Of Three Different Background Sounds
Ocean Waves
Birds
No Background Sounds (Can be used during sleep or during office hours)
As You Open This Page, This Sample Of Healing
With The Sound Of Ocean Waves Will Play.


PLAY YOUR SPEAKERS AT LOUD VOLUME FOR A STRONG EXPERIENCE
.
All recordings are $10 for each CD. Please specify which background sound and which healing is needed. Healing list is at bottom of this page.


Note: Please be sure to specify the healing you need on the notes to me when you pay or e-mail me at sol@atimetoheal-om.net. Please allow 1 to 2 weeks for delivery.

This page is a new and exciting discovery. It is "HEALING BEING RECORDED". I have found a special way to record healing to an audio format for anyone to listen to. It includes a transfer of grace, oneness blessing, healing, nothingness, and many other qualities and healing modalities. And it works!! How exciting is this!!!!

These recordings have NO SOUND and can be played at any time (even sleep) as long as you are not driving or handling dangerous equipment. They will affect different individuals in different ways. They are very potent for individuals who are sensitive to the higher vibrations these recordings emenate. Those of you who are not so sensitive will find them beneficial but will not receive a potent experience along with the benefits. The benefits might be subtle to obvious depending on your willingness to receive the Divine Energies and Emptiness that these recordings contain. It is completely up to you and your personal heart being open to these energies. I have been exploring and mastering this technique of recording for 7 years. I have experimented on many different individuals and with many different healing modalities and on assorted healing issues. I have 72 different subjects matters that I will be focusing on. Many of them are for children, business and spiritual agendas. I can also create a personal CD or download for you and your specific issue. They can include the sound of the ocean in the background if requested.
Healing CD Choices:
Opening of the Heart (Heart Chakra)
Grounding or Centering
Peace of Mind
Deeksha (general)
Insomnia
Sugar Addiction
Addiction (General)
Worry & Stress Release
Prosperity Consciousness
Relaxation (General)
Relaxation Specifically for Children (For Sleeping and Relaxation Time)
Concentration
Focus at the Workplace
Sides of the Brain Synchronized
Spiritual Connection to the Source of Who You Are
Opening of the Third Eye
Love (unconditional)
Nervousness & Hypertension
Sexual Enhancement
Help With Communication
Conscious Dance
Meditation (Deeper Experience)
Creative Inspiration for Writing, Music or Art
MANY OTHERS TO COME SOON
To Receive Deeksha / Oneness Blessing, Distance Healing,
Or Spiritual Counseling or Guidance
with
Solomon Faber
Please call:
866-573-1870 (toll free), 530-852-7836 or e-mail him at
sol@atimetoheal-om.net for an appointment.
Some Links Below and Many Pages In The Site Are Under Construction. Thank You For Your Patience and Understanding.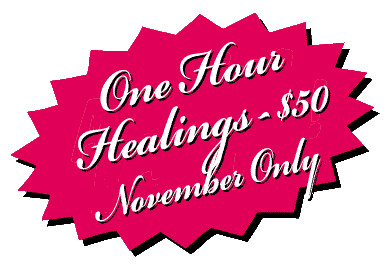 I give precise, clear and understandable instructions on exactly how to forgive yourself, love and navigate inside of any thought, feeling or experience.


More Quotes To Come.
Everything that you choose to recognize as yourself becomes a gift that is a doorway to liberation. This does not mean that you need to work on yourself for the next 10 years when things are finally clear enough in your life and consciousness . . . then you decide to choose oneness and seeing everything as yourself. NO. Choose this now. It is available to you as long as your belief systems take a vacation. There is no future. There is only right now and allowing yourself to be one with what you are experiencing and feeling is at first mechanical and then after faith sets in, it is easy. It is actualization and not realization that works. Oneness is not an experience as much as a knowing that this is all my body. Getting caught inside of looking for the oneness experience is the trap of the mind to not opening to oneness.
Trying to choose anything from the mind and from your comparison mode is a form of suffering. Choice only exists the moment it needs to be made. All analysis causes one to touch their own pain body and contract into illusion.
Affirmations work. Is that true? Trying to change things by forcing them to be something they are not is called manipulations. Has it ever worked? . . . or has it just moved around the suffering to another part of your life. Exchanging one suffering for another.Love is the answer to everything.Let darkness consume you. If you defend yourself against it, you immediately become a victim. Victim consciousness is a state of duality. Stop defending yourself against anything. All protection . . . All psychic protection . . . All protection is declaring that you are a victim. It is a lie.
More Quotes To Come.